Sri Kota Specialist Medical Centre (SKSMC) is the leading Healthcare private tertiary medical centre in Klang. We stand tall in the heart of Klang town at 9 stories high with 232 beds equipped with modern medical facilities.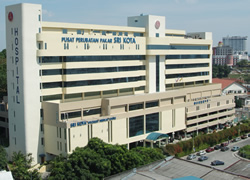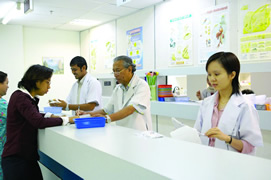 SKSMC was born out of the vision to provide premium medical care in Klang and its vicinity. This vision was crystallized in April 1997 with the laying of the foundation stone by the then Honorable Minister of Health, Yang Berhormat Dato' Chua Jui Meng.
In the years since we started operations in September 1999, SKSMC has seen an increase in the number of specialists who have taken up residence at the Hospital. Additionally, there has also been an expansion in the fields of medicine offered by the Hospital.
SKSMC is a MSQH accredited Hospital. We are the first MSQH Accredited Private Tertiary Medical Centre in Klang. SKSMC was awarded with a full 3 year MSQH accreditation from 12 Nov 2011 to 11 Nov 2014. The MSQH accreditation represents an important milestone for SKSMC and is a testament of the Hospital's commitment in delivering ongoing quality healthcare service to its patients and ensuring patient's safety and satisfaction.
SKSMC core disciplines are Heart, Spine and Cancer care. The Centre also has one of the leading teams specializing in minimally invasive endoscopic spinal surgery in the country, a procedure available only at a handful of other medical centres locally.
SKSMC is committed to the delivery of quality tertiary-level healthcare to the communities we serve.